Live Blackjack
There can only ever be one king of the jungle and as far as casino's are concerned that title belongs to Blackjack, the game so popular that households up and down the country have been playing it for decades – even when there's been no money to win! The good news is there's plenty to win when you play it at the casino and the even better news is now you get to choose where and when it's time to play thanks to live Blackjack!
Playing live Blackjack games online
There's probably playing experience in the world that can match live Blackjack in terms of convenience and excitement so if Blackjack's your poison then you really have to start joining in soon! The concept of live Blackjack is quite simple and in recent years the application of it has been perfected which is why so many people rant and rave about it today.



Instead of you the player actually being inside a casino and telling the dealer to stick, twist, or split instead a high tech state of the art camera will be there in your place. Now you'll get to be sat at home enjoying the comforts that only a home can provide while you get to see and hear everything that's going on in the casino before you. Live Blackjack isn't like watching the game on the tv either as this is a truly interactive experience where you can chat along with the dealer as you play and anything you say to them they can reply to right away!
The technology behind live Blackjack features incredible graphics that will put your regular tv viewing to shame, and a lag free steam that will really allow you to immerse yourself in the gameplay. It's the incredible experience of live Blackjack that draws so many people into the games nowadays as now you're able to get all the perks of playing at an actual casino(plus a few more) without any of the drawbacks such as it being too busy or spending a whole bunch of time travelling to get there!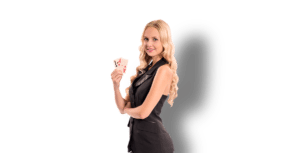 Perhaps the greatest part of all though is the fact that live casinos offer some of the simplest games to play anywhere in the world. You don't need to be even remotely computer savvy to pick up how to play these games so they're not just ideal for players who love Blackjack, it's ideal for players who are new to the online world as well!
When you first make your way to the live casino lobby you'll notice that you don't just have a choice of Blackjack, you'll be given the choice to play all the many variations the game has as well. These are well worth playing as well if you like Blackjack as they all offer something a little different and help keep the games exciting for hours and hours on end.
Whichever table you decide to play at a livestream of that table will pop up on your screen and will show you the dealer, the table, and a stack of virtual chips for you to do your betting with. You'll also notice the deck of cards here has been supersized which might seem quite peculiar at first, however you'll be quite thankful later on down the road as it lets you see your cards very easily – even if you're playing through your mobile phone!
When it comes to the betting it requires you to do no more than clicking on the chip you'd like to bet with and then clicking once again which betting box you'd like to place it in. Then when the action gets round to you all you need to do is click on one of the available option on the screen to let the dealer know what you'd like to do.



Live Blackjack is as simple as it is fun to play which should be a real game changer for you all as now you don't have to waste time travelling about to get that truly authentic and immersive gaming experience you desire!